Welcome to the 2nd day of our 2018 Spring Trip
Today we will be checking out some local places, then drive down to Death Valley.
Then drive through some ghost towns and will end up in Tonopah.
First part of our planned trip.
Second part of our planned trip.
We had a great night here, even though the hotel looks a bit run down it is very eccentric.  Will definitely stay again .
Got up quite early and while waiting for the cafe to open, we took a walk around and took some pictures.
Alot of the buildings was deserted but you could still see what they had been used for. 
There was an empty garage/gas station across the street and in the hotel complex, you can see where the post office, bank and some shops. 
There is even set up a building to show some of the stuff from Marta Becket.
This cafe is awesome, breakfast was very good. 
All of the food they use here is locally sourced and fresh, which is a big plus in my opinion.
The jams they had was so yummy, we had to take some with us 🙂 
The opera house is amazing, all paintings in there were done by one person, Marta Becket. 
She started on the them in the 60's 
Had originally planned to start with Dante's View but sadly the road was shutdown for maintenance, so we weren't able to go there. 
So first stop is Zabriskie point.
Zabriskie Point in Death Valley
 It is beautiful, the pictures doesn't justify it but if you get a chance to visit you will be overwhelmed by the beautiful scenery.
Badwater Basin in Death Valley
Second stop in Death Valley is Badwater Basin.
It is the lowest point in North America, 287′ below sea level.
If you decide to take the walk out be prepared for the heat and take some water with you. Is worth the walk out.
We was lucky and was just in the mid 90's but was still very hot. 
My honey got her nose burned while we was here..
Devil's Golf Course in Death Valley
Devil's Golf Course, Golf Course which only the devil would like.
Artist's Palette in Death Valley
Had a short stop at the Artist's Palette, got an awesome drive through video which you can see below.
Lunch stop at the Timibisha Shoshone reservation in Death Valley
After Artists Palette we drove in to Furnace creek to get some lunch and look around. 
Decided to stop by the Indian reservation,  to try their Indian Taco. 
Ordered one each plus some Fry bread for desert. 
Should've looked at the picture more closely and only ordered one for the both of us.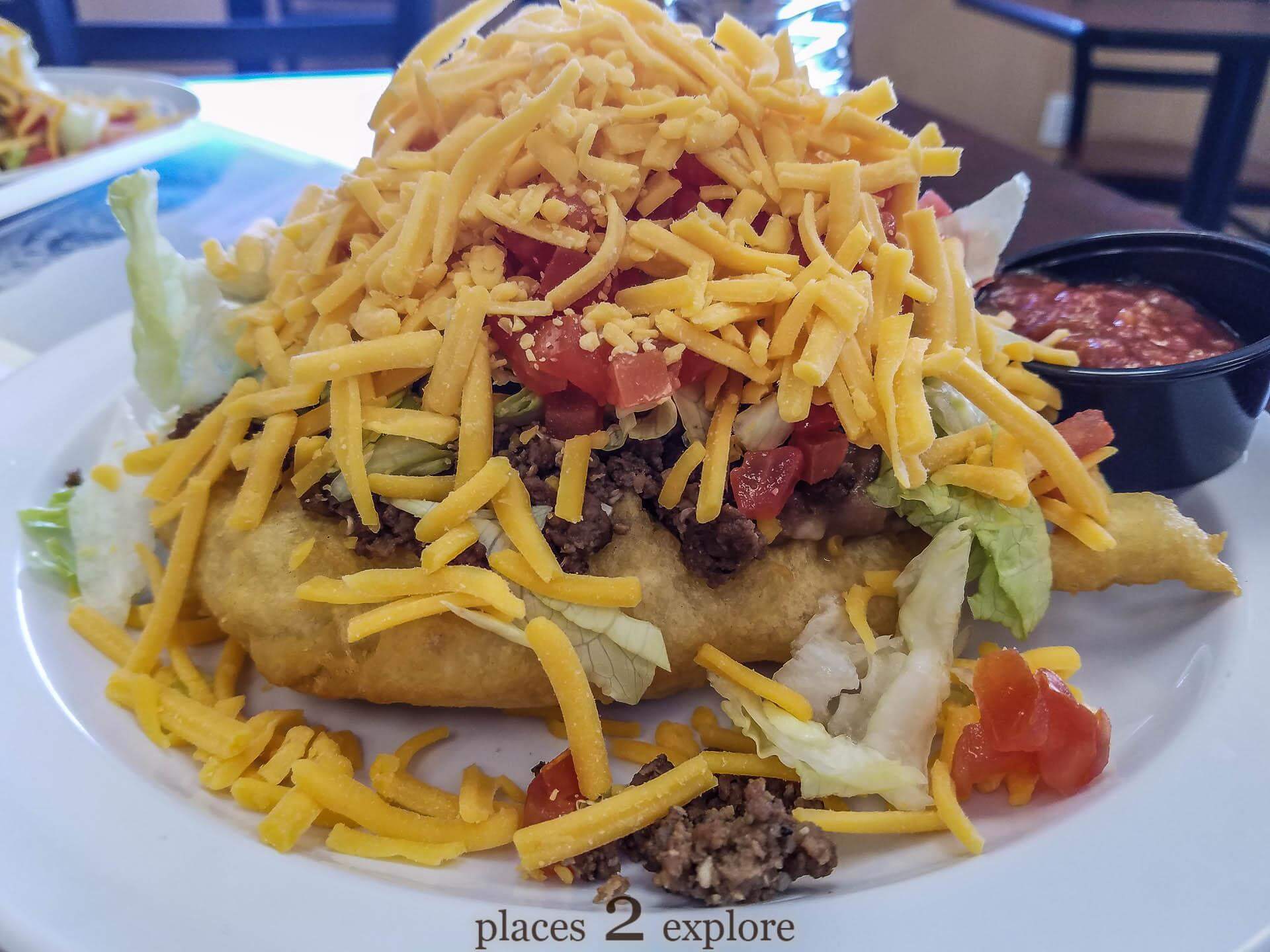 After we had our genourmous lunch, we drove past the Harmony Borax Works, took some pictures and started on our drive out of Death Valley.
Awesome park, hopefully come back and get to spend some more time here. As long as it in the winter or early spring as it gets very hot here.
Next Stop, Rhyolite Nevada
Next on our journey is Rhyolite ghost town, a gold mining town that flourish in the early 1900's and left just as fast as it came. 
Had about 5-8,000 people in its boom years between 1905 and 1911. 
Now it is just some few ruins left.
On our way to Goldfield, Nevada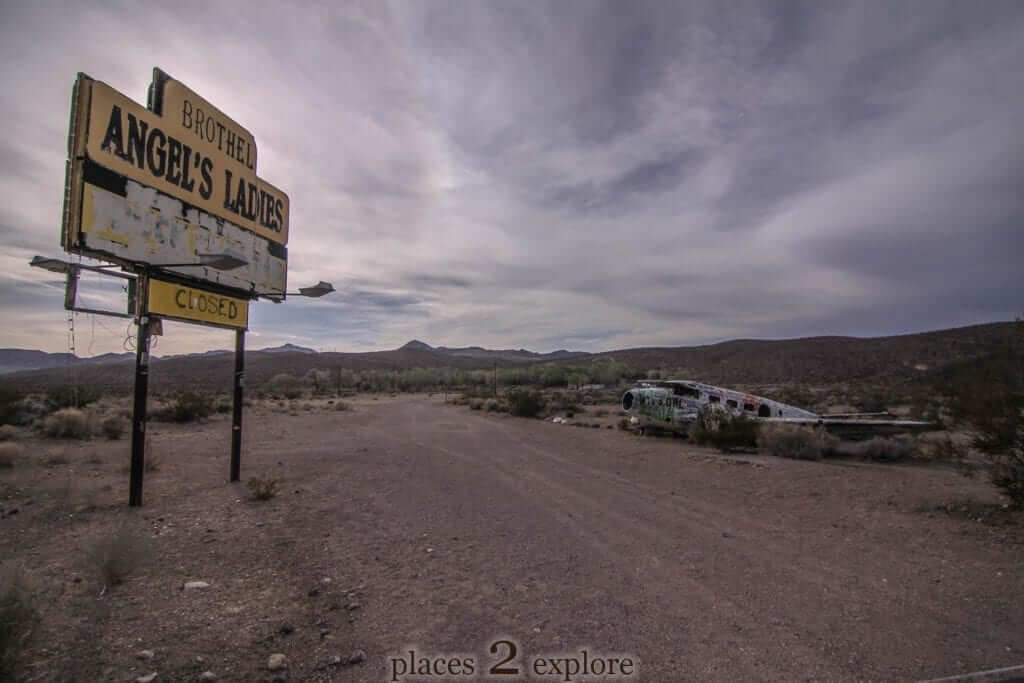 While driving to our next stop Goldfield, we stopped by an old crashed plane, that was placed right next to an old brothel sign.
We stopped in Goldfield to mainly to look at the hotel but saw a lot more, definitely worth revisiting this town. 
In its boom days it was largest city in Nevada.
International Car Forest of the Last Church
Last stop on our journey for today is the car forest in Goldfield.
To get there we had to go through a bunch of side roads and our gps was trying to guide us through all these weird unmarked gravel roads, was still worth the hassle. 
Arrival at the Mizpah Hotel in Tonopah
Finally arrived in Tonopah and checked in to the Mizpah, a beautiful hotel.
Got told that there might be a hidden dressed up mannequin in the room some where and if we did we would possibly get an upgrade to the Lady in Red suite.
Sadly there was nothing in our room.
After we got our stuff in we went down stairs to their restaurant and enjoyed a good meal.
After that it was time to crash.